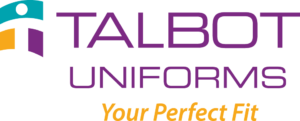 In addition to the world-class product selection and customer experience you have come to expect from Talbot Marketing, you can also count on Talbot for your uniforms and professional apparel.
If your company needs a uniform that allows you to create a consistent image in the markets that you serve then isn't it time you talked to Talbot's Uniform Department?  We specialize in uniforms for Fire, Police, Paramedic, Security, Transit, Airport, Construction, Automotive, Manufacturing, Maintenance, Safety, High Visibility, Flame Resistant, Landscape, Hospitality, Assisted Living, Healthcare and College Programs.  No matter the industry you're in, we've got you covered and we'll make sure it's your perfect fit.

If you would like more information on products related to your industry, visit our uniform product section.
Don't see what you like, reach out to us and we'll do our best to find what you are looking for.
Some of our Preferred Suppliers
Talbot Uniforms has consistently provided the highest level of service and product quality in the 10+ years the College have been associated with them. With the use of the latest online technology it has streamlined the uniform outfitting process to a number of clicks on a computer mouse, saving both time and money for prospective and current students and staff at the College.
Their service after the sale is second to none. They are a world class uniform supplier.
For the past 8 years Talbot Uniforms provides our paramedics with their uniforms from pants to shorts to winter jackets, the uniforms supplied have consistently been of superior quality and wearability. Their ability to tailor sizes and make alterations for all of our staff has ensured appropriate fit and adherence to all legislated requirements.
The customer service we have received has been exceptional, the attention to detail and providing new suggestions through ongoing product research has allowed us to provide reliable and professional uniforms to our paramedics. The personal, responsive and dependable customer service has unquestionably been the highlight of our relationship with Talbot's Uniform department.
It has been an absolute pleasure to work with Trish Cook and the amazing staff at Talbot. There have been many companies knocking on our doors that try to entice us to change but the customer service Talbot has provided just can't be outdone. This has been proved time and time again, they honestly care.
"Positivity is a force multiplier" – true words. Trish and her team are always positive and go out of their way to always be friendly and that goes a long way with the demands of the work day. We have shared many laughs over the years and hope we continue to do so.